Audio Research GS Series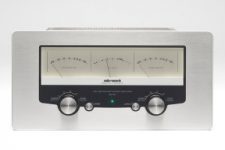 New Series from Audio Research GS Series
Audio Research proudly introduces the G-series of vacuum-tube electronics, in homage to the great astronomer and scientist, Galileo Galilei.
http://www.audioresearch.com/ContentsFiles%5Cvolume%20one.pdf
GS 150 uses KT-150 tubes
The KT150 offers higher plate dissipation, higher current capabilities, more power output and a longer lifespan than previously available power output tubes.
GS150 has been designed to seamlessly integrate into any system and steadfastly perform its task. Challenging source material and difficult speaker loads are met with control and finesse to present a musical landscape of breathtaking proportions.POWER OUTPUT: 155 watts per channel continuous from20Hz to 20kHz. 1kHz total harmonic distortion typically 0.6% at 155 watts, below 0.03% at 1 watt.
The GSPre is the nerve center of a system – not only directing signals and providing attenuation, but also interpreting and deciphering complex signals to create a musical story with the drama and intrigue befitting your favorite songs.
---