Audio Research SP20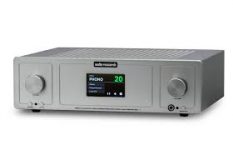 New Style, New Look
Now on Display and ready for your audition.
Hybrid Tube pre amp is a full featured pre amp complete with phono built in, 6 line level inputs and remote control.
Other features include both XLR/RCA  input and outputs so all you products can be connected without adaptors and
for the first time that I can remember a ¼" headphone jack.
Some technical info; include low-noise JFET inputs and two 6H30 output tubes-a fully balanced, pure class-A preamplifier
Retail- $ 9,000. U.S
Check out the review in Stereophile
http://www.stereophile.com/content/audio-research-sp20-preamplifier
---