Sonus Faber Venere Series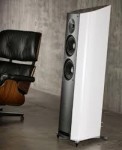 New Entry level speaker from a world reknown Italian company which has never offered a speaker in this price range. Cosmetics modeled from the top line model, Aida
"Beautiful to look at and great sound."  - Angie
All the speakers in the Venere line are identified by their ease of use and placement in the listening environment and for their impressive ability to 'disappear' leaving the Music as the protagonist. An ideal candidate also for an excellent home theatre system.
On Display at 9108 Yonge Street.
Stocked in Black finish. White by special order.
In store September Special Venere Series all Demo models on  Sale. 
Full warranty to apply.
---