AudioQuest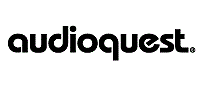 The evolution of AudioQuest cables has taken place over the entire life of the company, however several of the most important basic design criteria were established very near the beginning.
AudioQuest has been the largest cable supplier to the high-end specialist market for many years. Bill has always understood the challenge of basing the existence of AudioQuest on the performance of the product.
Many new and exciting products available.
DragonFlyDACs
- Black and Red with MQA coming soon. Headphones-NightHawk and NightOwl Website
audioquest
NOT JUST CABLES

---