Coming Soon
Around every corner, there is something just a little bit better.  We make sure it's in your hands and on this site immediately. Our well-developed relationships with top manufacturers means we have the latest equipment for you to choose from.  Make this page one of your "weekly must-reads" to stay on top of the audio game. If you don't see what you're looking for, call us.  We can order it for you or recommend an even better option.
New Added Location–For years we have offered used, trade in and clearance items which offer great opportunities for the hobby part of the industry who can then experience different levels of audio without  investing in new items.  In the new location we will also have space for Consignment items for those who are down sizing or  have acquired too much gear.  A reasonable consignment fee will be charged. We are excited that this forum will have a great space and environment . Audio and non audio items will be available for sale. Opening date has yet to be established but we are aiming for the end of October. Our phone number at this location will be 905-773-7810 and is located next door to Angie's Audio Corner at 12261 Yonge Street in Richmond Hill.  Once completed we will have 3 separate levels of stores; entry to Hi End at 9108 Yonge St.,  Hi End to Higher End at 12261 Yonge Street and right next door our Clearance Center-"The Annex" 905-773-5773   Hope to see you soon and explore.   Thanks Angie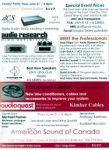 Party June 21 / 4pm- 8pm
Customer Appreciation Event.
Meet the Experts. Welcome Michael Fremer, analogue expert, reviewer and music lover. Anthony Kershaw of Audiophilia.com, Ernie Fischer of Inner Ear. Company representatives, Aldo of Audio Research, David of T+A, Bob of Transparent, Mike Latvis of HRS,John of Dcs and more great industry people to meet and greet.  Lots of Food and Beverages.
Hope you can make this Event to Thank you for your support and sharing what I love. Angie and the Team.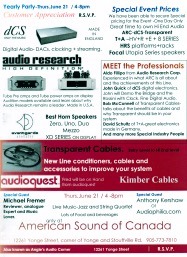 Party June 21 2018
---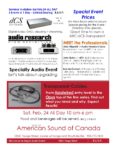 Party June 21 / 4pm-8pm
Party Thursday June 21- Customer Appreciation Event
Special Audio quests- Michael Fremer, Anthony Kershaw, Ernie Fischer, and many company Representatives. Lots of Food and Beverages. Live Music- Jazz Trio and String Quartet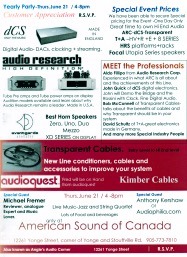 Thanks for your continued Support and hope to see you here. Angie and Team. Event: Meet the Professionals We are happy to welcome Aldo of Audio Research Corp., John of dCS Digital and Bob from Transparent Cables. Join us for some great demos of these Fine audio products.
ARC DCS TRANS SeminarFeb242018
---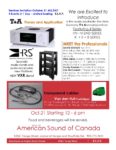 Seminar Oct. 21 – 12-6pm
Seminar
4 Featured sessions.
Introducing our new Electronics Line.
T+A
from Germany. It has been several years since we have brought in a new electronics line that is so innovative.
T+A
offers whole system solutions in one box. Multi function features in one chassis, CD/SACD/Streaming,Digital inputs and more. The most often request is, "I want to down size the number of components in my system but still want HiEnd performance." Well here we are, T+A is just that line. Some of these items will be talked about with
David Schultz
, of T+A. Not to mention the
HV
HiEnd series. Theory and Application
Mike Latvis, engineer and owner of HRS, Harmonic Resolution Systems, will be on hand to talk about the importance of an audio rack and other audio accessories. The foundation of the system. I cannot imagine a system set up without and HRS audio rack. Hard to believe but Mike's demo and technical explanation will prove it and you will believe. New model- VXR - will also be introduced.
Randy Forman
of VanDen Hull cartridges, will be on hand offering cartridge exams with his special microscope. He will evaluate the wear and tare of your Cartridge. So, we invite you to bring along your cartridge and have an experienced assessment. Also, Randy will go thru the VanDen Hull line up of fine MC cartridges. Best for last, a new top line phono stage never available in Canada before-A DEBUT- another choice in phono stages.
Bob McConnell of Transparent will be on hand to introduce new line conditions and the Gen 5 series of cables. Transparent remains our most satisfying line of cables and line conditions for years. We will talk about power cords, interconnects, and line conditions. What improvements to expect and what to do first.
Seminar Specials
is another reason to visit. Food and beverages will be serviced.
RSVP is appreciated. Contact: Ash by email americansoundash@gmail.com Or call- 905-773-7810
---

Annex Re Opening Feb.18
We are happy to announce the Re opening of the Annex. Since closing our location at 9108 Yonge St. we have been working hard to offer a copy of this store. A location that would offer products like Marantz, NAD, Cambridge audio and such like products. A place where our more affordable fine products would be displayed in a comfortable space. Leyland and Arnold will be pleased to take care of your audio and video sound systems. It is a cosy and laid back environment with items like headphones and audio accessories available to fit your budget. The Annex is just next door to the main shop which displays Hi End audio exclusively so please walk on over to the main house to see how far audio can go. Opening is planned for Feb. 18 so look out for our banners and come on down. New models and products will be featured with a great welcome awaits. Thanks Angie
AnnexOpening2017 Rev2
---
Annex Re Opening Soon
We are happy to announce that we are working on getting the Annex Open again. We have had many requests from our customers missing the fun of looking for that special find. A place where used, consignment gear will be at one place. Our work in getting together will take another 2 weeks so we hope you keep an eye on it an drop in. As usual, we will have a great time and post the re open day soon which looks like the end of July. Thanks for your patience.When we closed our Yonge and 16th store we needed the space for storage and the Annex was sacrificed. We hope to see you soon and the phone number for the Annex will be active again. 905-773-5773 Some of the crazy stuff, Hi End and also regular audio gear will be on display and as usual checked and sold with a 90 day warranty on our store inventory. Consignment, as per usual will be Cash sales only. We are prepared at this time to take in consignment gear but soon. Some of the recent gear in and coming are: Apogee speakers, Genesis 11 speakers, Wilson Watt3/puppy,Audio Research Ref2mk2, Avid Acutus turntable, Avid Diva and other stuff like Denon AV receiver, Marantz dvd players, Yamaha DSP1 and so on....... We expect the summer months to be busy as this historically is when the opportunity to pay at great prices on that rare piece is available. We encourage you to call and ask us if there is something you are look for is available now or coming in soon-Get on Our Want List- send us an email or drop in and visit. Thanks Angie July 15,2016
---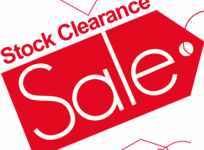 2 in 1 Event May 27,2016
EventMay272016-2
Clearance on all in stock items, old, demos, new and consignment gear. 12 pm - 4 pm PLUS Seminar Seminar with Mike Latvia of HRS-Harmonic Resolution System will demonstrate how a shelf, a stand a plate can improve our whole system. James Drew of Meridian will demonstrate Meridian's unique speaker systems for today's life style. Introducing MQA, a new an improved audio experience. Fred of Audioquest will show us the new improved cables and accessories that make Audioquest a top rated consideration when thinking of cables. Digital interfaces also available.All this in JUST ONE DAY AND 1 EVENT
---
---

JL Audio Subwoofers
News- April Sale on all subwoofers.
Fathom V2 Series
available and in the shop for your audition.
New E
  series. A new more affordable series from the famous Phatom series. Promises to be very powerful and dynamic. 2 new models arriving this month, October.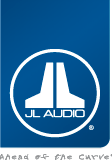 Just in! the
New Dominion Series
of Subwoofer. The Series offering outstanding performance that will surprise you. Now everyone can afford the most popular subwoofers in the better audio marketplace. Drop in and see the New Dominion Series alongside the eSeries and Fathom. Upgrade to JL audio. Made in U.S.A.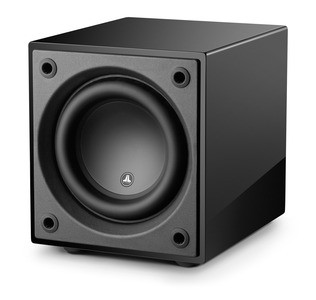 ---
---